6
Hoy, como el tìtulo lo dice, fue de lo mejor! Estaba esta mañana pensando si
Tamir
aceptarìa, y justamente
esta mañana el lo hizo
! La verdad que estamos hechos el uno para el otro :-D El dice que quiere abrazarme, estoy tan feliz!
Blogger no me deja comentar en su blog, pero yo dirìa algo asì:
Dear Tamir, I am SO HAPPY you acepted to be my Valentine Fur-Ever! I wish I could be with you. I know how! Someday I will escape from my house on Brownie's plane, he he ;)
Segundo, ¿se acuerdan del concurso de
Skeezix
? Bueno, pense que solo le podìa
dedicar una entrada a el
, pero adivinen,
ganè un premio
(gracias a
Tamir
me dì cuenta, la verdad que soy un poco descuidada) Lo pondrè en nuestra
pared de premios
, asì lo podre apreciar siempre.
¿Necesitan otra cosa para saber que estoy feliz? Bueno, tengo buenas noticias: Ya arreglaron la camara de Brownie y esta tarde tengo sesiòn de fotos. Ahora
Tamir
(y ustedes) no tendràn que seguir viendo fotos viejas de mì, no no no. :) (Tip: ahora puedes saber el estado de las camaras en la pagina
Acerca de
)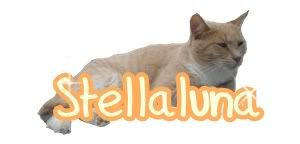 Si te gustó esta Aventura talvéz te guste: